Description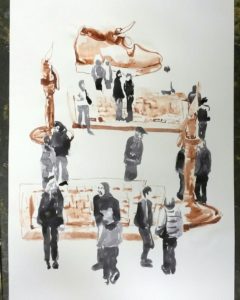 Little People II derives from a period in my work when I was working from photographs of crowds and juxtaposing small groups of people in an environment against oversized plants, computers, sculptures and shoes. Partially based on the Czech concept of "Male, ale naše" (small but ours) used when referring to the size of the Czech Republic, these works are also a meditation on human experience in the face of rapid technological change.
Please note for all items shipping and taxes are included in the price. As all items are shipped from the Czech Republic, please allow 3-5 weeks for shipping. During this global pandemic, slow delivery times may be a problem. All shipments will have a tracking number.
Bear in mind that larger works are shipped unstretched together with the stretcher bars and it is your responsibility to have the canvas restretched upon receipt. All works are sold as is with no framing.
For any questions, feel free to contact me directly.